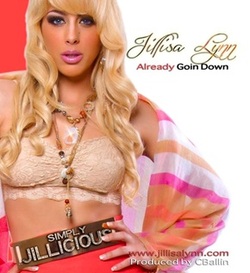 Beverly Hills, Ca
- Following her bombastic release party for her new single
Already Goin' Down
at the Supper Club in Hollywood, singer and model
Jillisa Lynn
made a special guest appearance at the 39th Annual PSW Emmy® Awards in Las Vegas to promote her new dance track.
The upbeat single features modern r&b stylings, electronica and rap influences, produced into a crisp presentation reminiscent of early Rhianna.
Already Goin' Down
will also be featured on the soundtrack for the film
Sunny and Rayray
out this summer.
The 'Jillicious' 23 year-old bombshell has enjoyed staggering success in the modeling world, being featured in 10 magazines, appearing in over 15 music videos and 6 films, and hosting over 40 events. But her need for self-expression has grown beyond mere face value.
"Modeling has been very good to me, and I am blessed to be working with such amazing people. But as I have matured in this business, I have longed for opportunities to express myself through other art forms. Music has already provided me a satisfying outlet for my energy and passion."
And the Rochester, New York native is no stranger to the music world, having worked with artists such as
Snoop Dogg, Soulja Boy
and
Justin Timberlake
.
"You can't deny the power music can have on your life- your outlook, your mood. Truly gifted musicians have the power to transport us to emotional places where we can celebrate or mourn, dance or cry. If I can move you to dance, to laugh, to cheer along, that, to me, is art."
You can find more information on Jillisa, her new single, and learn more about her upcoming projects at her official website:
http://www.jillisalynn.com/