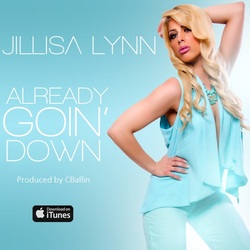 Jillisa Lynn to Perform at LURE Hollywood.

Beverly Hills, Ca- Bombshell Jillisa Lynn will perform her single Already Goin Down at LURE 's 'A Night in Fashion and Music' event on Thursday September 19th. Featuring some of the West Coast's top female fashion designers, the runway show will donate a portion of the proceeds to operationsmile.org.

Fans of fashion and music quickly recognize the Rochester, New York native from her extensive catalog of modeling experience. The accomplished cover model has worked with over 60 photographers, and has been featured in over 15 music videos, working with artists such as Snoop Dogg, Soulja Boy, Keri Hilson, Tyrese, Ray-J, Jamie Foxx and Justin Timberlake.

Her up-tempo single Already Goin Down, featured on the soundtrack for the award winning independent film Sunny and RayRay, reflects modern r&b stylings, electronica and rap influences.

"The more you love fashion, the more fashions you love- I love these designers and I can't wait to get people on their feet in honor of these influential women!" Jillisa Lynn

Hosted by Don Benjamin of Season 20 America's Next Top Model, a portion of all proceeds will be donated to Operation Smile, a group of compassionate people dedicated to healing cleft lip, cleft palate and other facial deformities. Since 1982, Operation Smile has provided more than 3.5 million comprehensive patient evaluations and over 200,000 free surgeries for children and young adults born with facial deformities

Also slated to perform are DJ Mark Lewis, DJ Rap and Lea Luna.

First 50 guests will receive VIP gift bags. Already Goin Down is available via Amazon or iTunes.